WHEELS and TIRES
The GTR is equipped with an F2 front wheel and VFR rear wheel.
While the F2 fitment is almost a straight across swap, the VFR takes a bit more work.  There are a couple of different ways to do it, but I decided to modify the OEM Hawk rear hub to accept the VFR studs, lug nuts and 5.5" wide wheel.  The hub is hardened and requires solid carbide tooling to machine.  The rear wheel now bolts on like a VFR, using the 4 lug nuts.
Both wheels have the original Honda factory white finish.  Can't get better than factory!
Tires are the once popular Metzeler – MEZ1 front and MEZ2 rear.  Sizes are 120/70 front and 170/60 rear.  These have now been surpassed with newer rubber compounds, but these 'skins still have planet of life left.
<![if !vml]>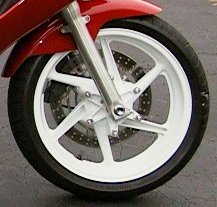 <![endif]>                  <![if !vml]>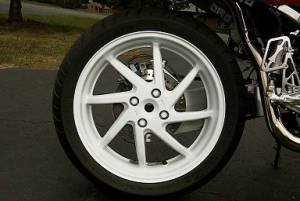 <![endif]>